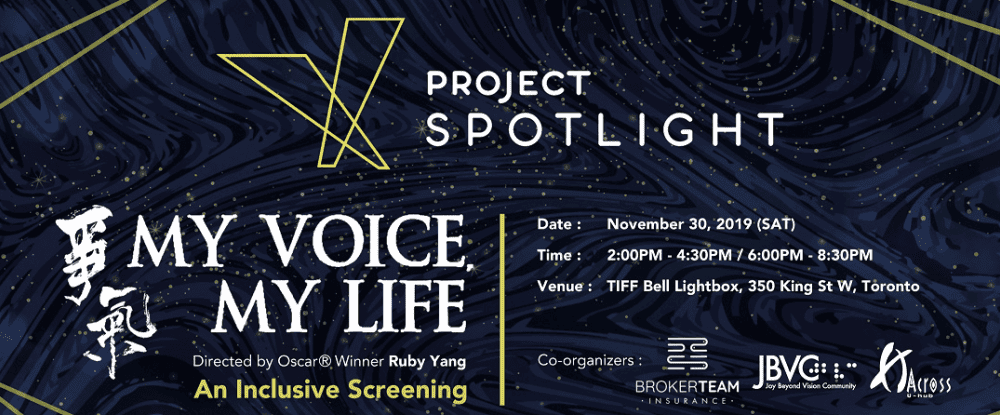 ---
Last year, BrokerTeam created a new corporate social responsibility initiative, Project SPOTLIGHT, to organize the first inclusive screening of a Chinese movie in Canada. Locally produced audio descriptions in Cantonese and Mandarin were provided to our visually impaired guests so both sighted and visually impaired audiences were able to enjoy a film together. We transmitted the audio descriptions to headsets in the audience through an infrared system in the historic, Hot Docs Ted Rogers Cinema in downtown Toronto. Over 900 guests attended Project SPOTLIGHT in 2018, and witnessed the birth of this cooperation between Joy Beyond Vision Community (JBVC), BrokerTeam, and our friends in the business community.
Project SPOTLIGHT is Back for 2019!
We are excited to announce that we will once again be hosting an inclusive screening by launching the second edition of Project SPOTLIGHT. Last year's Project SPOTLIGHT beneficiary, JBVC will join us as co-organizers for our 2019 edition.
As a brokerage, BrokerTeam Insurance is a bridge between members of the general public and the business community. We want to use our platform, to connect both sides of our community through this initiative.
Our special guest, Academy Award winner, Ruby Yang
This year, we are presenting a screening of, Academy Award winner, Ruby Yang's documentary, My Voice, My Life. The film tells the individual stories of a group of under-privileged Hong Kong teenagers who underwent six months of vigorous training to produce a musical. Through their trials and tribulations, the students challenge parents, teachers and policy makers to reflect on their way of nurturing the next generation. Inspired by the film, we are also taking this opportunity to introduce the works of Across U-Hub, a community organization focused on improving the health and well-being of young people, to the community.
Introducing our new co-organizers for Project SPOTLIGHT 2019
With co-organization by JBVC and Across U-hub, this movie screening and awareness campaign will draw our community's attention to the struggles commonly shared by families with teenagers of East Asian heritage or physical disabilities. This event not only gives our friends from JBVC and Across U-hub a platform to present their insights of the similarities between the documentary and our own East Asian-Canadian communities, but also creates a chance for these two charitable partners to exchange and serve each other, as well as the greater community.
Thank you to our partners
We were able to make Project SPOTLIGHT happen again this year because of the generosity of our community. This includes our Project Partners: L plus H Creations Foundation, Toronto Reel Asian International Film Festival, Hong Kong Society for the Blind; Presenting Partner: CAA Insurance; Major Partners: Borlak Law Office, Tone Labs Music Academy, Marriott Toronto Markham; Supporting Partners: Aviva, BakerTilly, Broker Books, Intact Insurance; and Community Partners: G&G Partnership, Print Resources Group, Thrifty Car Rental, Filmloft Media; with special acknowledgement to Lee Hysan Foundation, the Toronto Hong Kong Lions Club, and Pembridge Insurance.
Project SPOTLIGHT is a social dialogue and we will continue to help to facilitate this dialogue with our trusted friends and partners in the future.