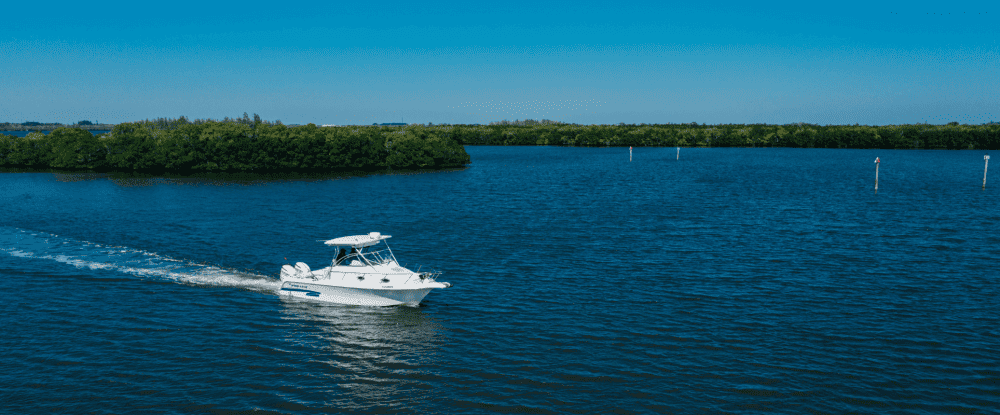 ---
Boating is a popular recreational activity in Ontario, with many people owning boats for fishing, water skiing, cruising, jet skiing and other fun stuff. However, boats can get into accidents, be stolen, or cause injuries like any other form of transportation. It is important to protect your family, friends, and investment with a boat insurance policy so you can enjoy your time on the water.
Boat insurance is not legally required in Ontario
Unlike car insurance, boat insurance is not legally required in Ontario. There is no law that says you must have boat insurance in Ontario. If the Ontario Provincial Police stops you on the water, they can ask you about insurance, but they cannot charge you with "failure to provide a liability slip". If this is a concern for you, most boat insurance companies will provide their own "slip" on your new or renewal policy as a convenience. You can keep the slip or a copy of your policy in a waterproof pouch on your boat.
Even though boat insurance is not legally required in Ontario, it can be mandatory in some cases. If you are financing the purchase of your boat, the financing company will want to protect their investment. You will not get financing without proof of insurance first showing the financing company as a loss payee. If you are storing or docking your boat at a marina, the marina may require proof of boat insurance before you can use their facilities.
In the future, boat insurance may become mandatory in Ontario.
Boat insurance coverage
The boat is covered while afloat, on shore, or while being transported or towed by a land vehicle. In the case of an accident on land, your car insurance will cover liability and damage to your vehicle. Your boat insurance policy will cover the boat and trailer. Your car insurance policy will not cover your boat and trailer, so it is important to have a boat insurance policy.
The policy covers the hull, propulsion components, communication and navigation devices, and instrumentation. You can add a trailer, 2nd outboard motor, electric motor, or dinghy. Most policies will cover emergency towing, loss of use if you need a temporary boat, and personal effects up to certain limits. Coverage also includes damage from vermin, infestation and zebra mussels.
A boat insurance policy is an annual policy but can be cancelled at any time. A large portion of the premium goes towards paying claims during the boating season, when most claims occur. This is why it is not worth cancelling your policy at the end of boating season as you will not get half your money back. Also, imagine cancelling your policy in November, only to pull your boat out of storage in the spring to find the interior destroyed by a family of raccoons who moved into your boat during the winter.
Most boat insurance policies include $2,000,000 liability, although a few insurance companies still offer $1,000,000 liability.
Agreed Value vs Actual Cash Value
A boat insurance policy provides physical damage coverage on an Agreed Value basis or an Actual Cash Value (ACV) basis. An Agreed Value policy will pay you the amount stated on the declaration page. An ACV policy will pay you the replacement cost of the boat less depreciation. Most stand-alone boat insurance policies are on an Agreed Value basis but there is usually a time limit. For example, a boat might have Agreed Value coverage until it is 15 years old. A PWC might have Agreed Value coverage until it is 5 years old. After that, coverage automatically changes to ACV.
Lay-up period
Boat insurance policies contain lay-up periods that specify a period when your boat must be out of the water. In Ontario, the lay-up period is usually November 30th to April 1st. If you use your boat on the water during the lay-up period, you will not be covered by your insurance. The main reason is that damage to your boat caused by ice or freezing is not covered under the policy. Obviously, a boat cannot be operated on a lake that has frozen over in Ontario. However, an avid boater may try to stretch their boating season into December when ice starts forming or put their boat in the water in March when the ice has not completely melted. Ask your broker for the lay-up period in your policy.
Navigational limits
Boat insurance policies contain restrictions as to where you can operate your boat and still be covered. This area usually includes all of Canada and the U.S.A. but not south of 40° North. For most boaters in Ontario, this is not an issue. But it is something to keep in mind if you are thinking of trailering or sailing your boat to the south. You can get a navigation extension from your insurance company after submitting details of your trip and paying an additional fee. Ask your broker for the navigational limits in your policy.
Factors that affect boat insurance premiums
The type of boat you own can affect your insurance premiums. A high-performance boat will be more expensive to insure than a smaller fishing boat. A large cruiser or sailboat will cost more to insure than a pontoon boat.
The value of your boat will also affect your insurance premiums. The higher the value of your boat, the higher your premiums will be.
Some companies will factor in age so the older you are, the lower your premium.
Tips for saving money on your boat insurance
Talk to a broker that specializes in boat insurance. The broker will be able to get quotes from multiple boat insurance companies and get you the coverage you need so you can get on the water faster.
A standard deductible is $500 for boats valued up to $50,000 and 10% of the value for boats over $50,000. Consider doubling or tripling your deductible to lower your premium.
Take a boating safety course for a discount on your boat insurance. The Canadian Power and Sail Squadron (CPS) offers boating courses beyond the basic PCOC course. For example, the Beyond the Basics (Boating 2) course will teach you how to use a GPS/chart plotter and understand the use of paper charts and coastal navigation. Most insurance companies will give a 10% premium discount to members of the CPS. You can find a list of CPS courses at https://boatingcoursesonline.ca/.
Stand-alone boat insurance policies vs home insurance policies
Most home insurance companies will allow you to add your boat and personal watercraft (PWC) to your home insurance policy up to a certain length and horsepower. This is often a convenient and cheaper way to insure your boat or PWC if it qualifies.
Finally, a claim on your boat is a claim on your home insurance policy. If you have too many claims, your insurance company may cancel your home insurance policy on renewal, and you will have to go to a specialty insurer with a much higher premium. A stand-alone boat insurance policy may cost a little more, but the coverage is better, and a claim will not affect your home insurance policy.
Marine Surveys
If your boat is over 30 years of age, the insurance company may require a satisfactory marine survey by a qualified marine surveyor before they agree to insure your boat. A marine survey is an appraisal of your boat and can cost hundreds of dollars plus the cost of any repairs. The marine survey can be a dozen pages or more and include pictures, descriptions, and recommendations for repairs or upgrades. Recommendations are categorized by those that are optional, important or critical. An insurance company may decline to insure a boat until the recommendations have been taken care of.
Conclusion
Boats and jetskis are great fun, but they can pose significant risks for their owners. When shopping for boat insurance, make sure you understand the coverage, deductibles, and premiums. If you are thinking of purchasing a boat, consider factors such as the type of boat, its value, and your boating experience when looking for insurance. With the right insurance policy, you can enjoy boating with peace of mind.
Article contributed by Ron Cseh
Ron is BrokerTeam Insurance's resident boat-insurance expert, with in-depth knowledge in watercrafts of all sizes. Get in touch with Ron by getting an online boat insurance quote today.