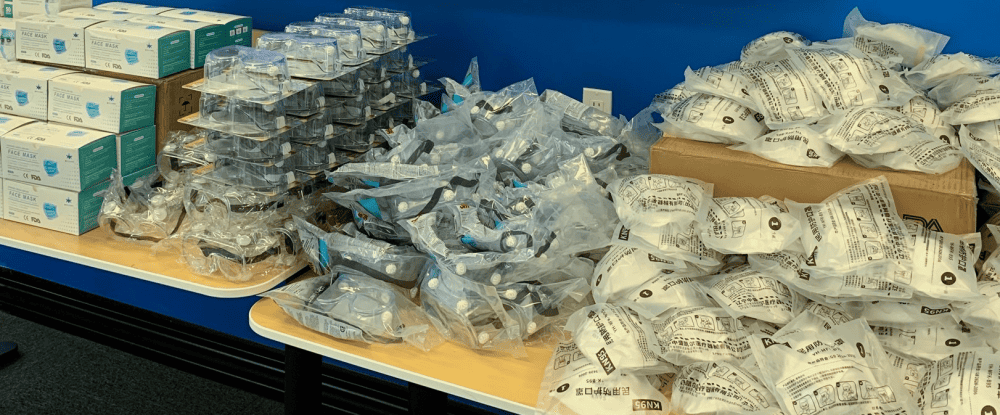 ---
As a member of the community, we at BrokerTeam are doing what we can to stop the spread of COVID-19. While we are fortunate enough to have over 95% of our staff work from home, we know that many cannot. They have either lost their jobs or are stepping up and working on the frontline providing essential goods and services to all of us.
Supporting our essential workers
With the shortage of personal protective equipment (PPE) at healthcare facilities across Ontario, several members of our team have taken action to round up donations to protect our frontline workers. Shortly after the state of emergency was declared in Ontario, our West Markham branch located 1,400 medical masks through their network and donated them to North York General Hospital.
In late April, when it was clear that a number of long-term care facilities were facing the brunt of infections, our CSC branch began collecting donations from staff and clients. They sourced approved medical masks and purchased hundreds of boxes of PPE for local long-term care homes: Unionville Home Society Foundation, Yee Hong Community Wellness Foundation, and Mon Sheong Foundation.
If you would like to make a donation and help supply the next batch of PPE, please contact us.
Helping the community
Since late March, we have been keeping an eye on our local food banks as we know they are another frontline that will need our support in this effort to battle the epidemic.
We saw that the Federal government announced a $100 million relief fund for food banks across the country but noticed that some our smaller, local food banks were not able to receive the relief immediately. One such food bank is Markham's 105 Gibson Centre who we've gotten to know through our corporate social responsibility program, Project SPOTLIGHT. When we heard about the community's urgent needs, we immediately donated $3,000 to their food bank so they can continue to deliver food in this hard time.
If you would like to donate to their food bank, they are accepting online donations here.
Every bit helps
While much of our staff is practicing social distancing, we have heard from many of them that they are giving back in their own way. From making and donating home-made masks, collecting PPE for the frontline, to financial donations for charities who have seen an increase in demand for their services. We are in this together and it is encouraging in a time like this to see the community get involved and support each other.