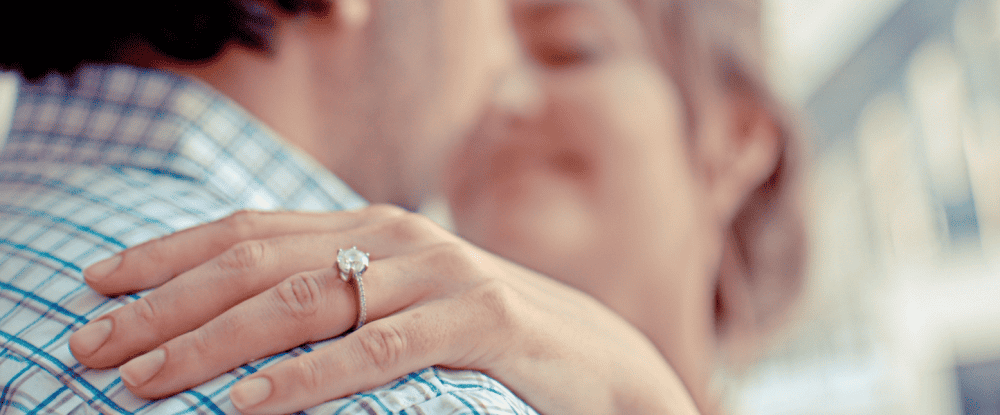 ---
From the moment you say "Yes", you are likely to be rocking your engagement ring everywhere and showing it to everyone. After all, isn't this what Instagram is for?
Aside from the financial value engagement rings hold (especially if he followed the De Beers rule and spent two months salary on the ring), they also hold great sentimental value. While you should enjoy this very happy time to the fullest, you should also think of the responsibilities this gem comes with. Because whether it's Meghan Markle's 2.5 carat, flawless diamond, or a ring bought from the store near the subway station, it's priceless to YOU.
What happens if the ring is stolen? If it gets lost? If a stone falls off? Or if it gets damaged in any other way? You can get a safety deposit box at your bank and keep your ring there for safekeeping. But unlike other pieces of jewelry, engagement rings tend to be worn more often, if not every day, all day. So you would still run the risk of losing it. And while nothing could replace the sentimental value, having your ring properly insured could soften the blow of losing it.
How to insure an engagement ring?
Check your home/condo/tenant insurance policy for coverage limit and deductibles. See how much you are covered for. Most home insurance plans have a sublimit for each item within a category of personal belongings such as watches, jewelry, and collectibles. In some cases, upgrading your home insurance plan can increase the sublimit and cover all of your jewelry. So you have to ask yourself: "Is the coverage on my policy enough for both my belongings AND the ring?" If the answer is yes, the next step would be to look at the deductible. A deductible is the amount of money you will be responsible to absorb from the cost of replacing the ring. Most home insurance policies have a deductible of 500 to 1,000 dollars. So if your ring costs $10,000 and your deductible is $1,000, the insurance company will pay you 9,000 (depending on coverage limit).
If the contents coverage on your home, condo, or tenant's insurance policy is not enough to cover the ring or if you would rather skip the deductible, you can schedule the ring on your policy. Scheduling means insuring an item in addition toy your policy, this item would NOT be subject to a deductible, so in the case of the $3,000 ring, your insurance would pay it all. Another benefit of scheduling is coverage for falling stones. This is one of the most common claims as the prongs holding stones can sometimes be easily affected. So you wouldn't have to cross your fingers and hope for the best every time you step out of the house wearing your ring.
How much does scheduling jewelry cost?
Expect to pay from 1.5% to 2% of the price of your jewelry every year. For the $3,000 ring, you would be paying 45 dollars a year. Some companies offer a discount if you have a safe at your house as well. That's almost half what Tiffany's charge just for engraving a piece of jewelry!
What to do after scheduling the ring?
Since the prices of jewelry usually rise over time, most insurance companies require that you re-appraise your jewelry every 5 years. This is also important for you to make sure your insurance would cover the full cost of the ring if something happens to it in a few years.
The rush of feelings, the excitement for this new chapter of your life, and the pressure of planning a wedding can be so overwhelming that you overlook what seems like a minor detail in the whirlwind of it all. Also, the different options for protecting your ring and the variations of cost can be so overwhelming that you push it to the side. But you don't have to put yourself in that position, and you don't have to shop around for the best deal. Contact us today and let us do the shopping for you. We will get you the best coverage for the best price so you can focus on buying diamond shoes to go with your ring.